GB\GeoSolidPro
---
The first Independent CAD software program to extract part geometry information powered by SolidWorks® into Mazatrol, GB\GeoSolidPro is a counterpart to GB\GeoEntry.™


With GB\GeoSolidPro, CamLink takes full advantage of a solid part model. GeoSolidPro can import other CAD format (3D or 2D).
Shops that receive part designs in SolidWorks or other CAD software can now extract data from the solids model, rather than just 2D, leading to increased efficiency and time savings.
GB\GeoSolidPro greatly automates unit creation by deriving a unitís geometric data from the solids part model.
Users enjoy all the part manipulation capabilities of SolidWorks, in addition to the Mazatrol programming features of CamLink.
With GB\GeoSolidPro you can...
Link SolidWorks' based part model files into Mazatrol
Dramatically reduce time required to input part geometry
Prevent Programming errors by extracting information directly from a part design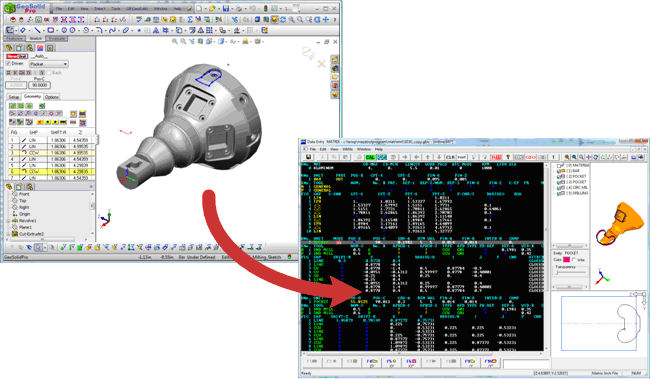 GB\GeoSolidPro lets you select a desired feature (as shown by blue highlight) of a solid part model and extracts the part geometry information into Mazatrol.


See Hardware/Software Requirements

See Press Release (March 3, 2008):
Griffo Brothers' CamLink™ has released SolidWorks® OEM product GeoSolidPro™


---
For a FREE demo and additional information contact us today!

541.758.8421 phone info@griffobros.com 541.754.7305 fax
---
© CamLink, GB\DataTransfer, GB\DataPrint, GB\DataEntry, GB\GeoEntry and GB\DataTranslate are trademarks of Griffo Brothers Inc.
Mazak and Mazatrol are trademarks of Mazak Corporation and Yamazaki Machinery Works, Ltd.